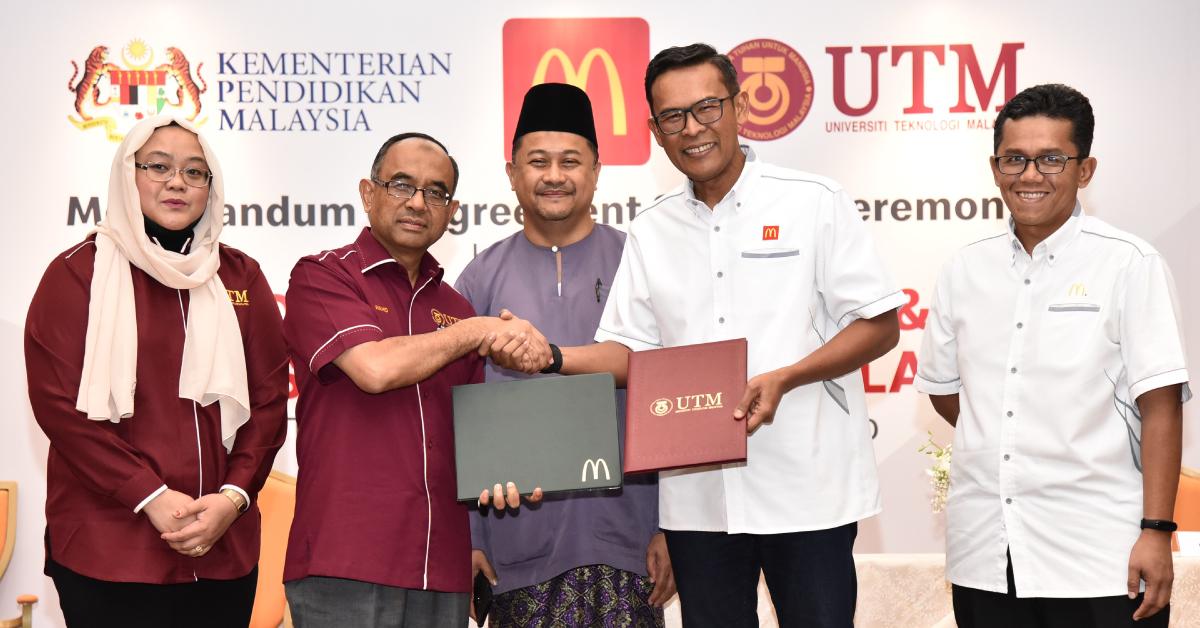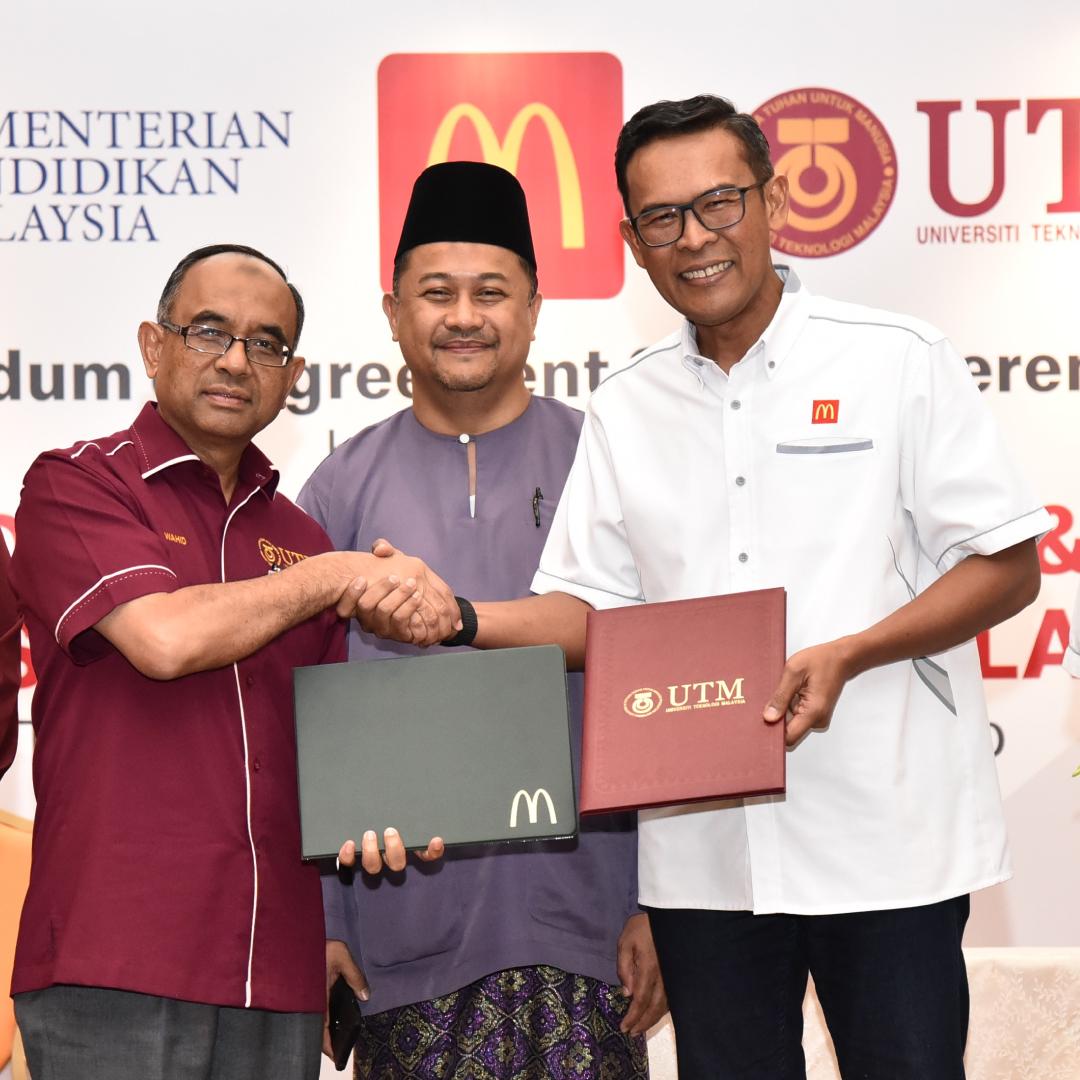 PUTRAJAYA, 2 August 2019 – In an effort to bridge the industry-academia gap in management and leadership roles, Universiti Teknologi Malaysia (UTM) and McDonald's Malaysia signed a Memorandum of Agreement (MOA) today to formalise a partnership which will see McDonald's Malaysia training modules be incorporated as part of the MBA programme offered by UTM Azman Hashim International Business School (AHIBS).
This partnership is UTM's first formal collaboration via a credit transfer system with a key industry player, enabling selected modules of McDonald's Malaysia in-house training programmes to be recognised as transferable credits to UTM's MBA programme. This provides the opportunity for employees at McDonald's Malaysia to enrol in the MBA programme at the university upon completion of selected modules under its existing training programmes.
"We are thrilled to be partnering up with UTM for a credit transfer system for its MBA programme. This underscores the quality of McDonald's Malaysia training programmes, where the focus is on leadership competencies, customer satisfaction, business acumen, and people skills – aimed at providing our people with opportunities for career development and advancement at every level," said Managing Director and Local Operating Partner of McDonald's Malaysia, Azmir Jaafar.
"This collaboration with UTM will enable our people to pursue an MBA which would help them in their personal and professional growth trajectories, in line with our practice of always putting talent first," added Azmir.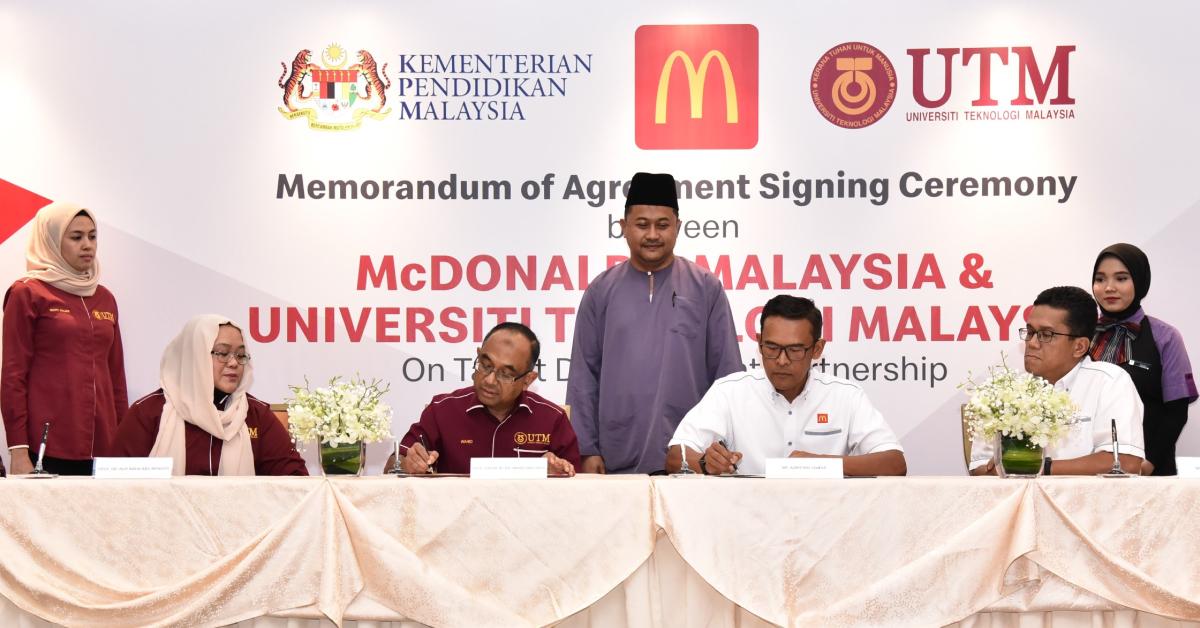 McDonald's Malaysia's managerial and leadership training curriculums, which were developed by McDonald's Hamburger University, take approximately three to four years to complete, which is about the same duration as a graduate degree. Based on the outcome of the modules mapping, McDonald's managers would be eligible for this credit transfer programme upon commencement in February 2020.
"At UTM, we emphasise strong industry linkages and we actively push for collaborative programmes that are relevant, competitive and innovative. McDonald's Malaysia already has a detailed employee training and development approach. In this collaboration, UTM experts will provide advice to enhance McDonald's Malaysia in-house programmes against our established UTM MBA programme. The outcomes will be professional inputs to produce a holistic approach in talent development, and a possibility of credit transfers that facilitate the entry of McDonald's Malaysia into UTM MBA. For us, this collaboration features a new education model that redefines academia-industry partnership to suit the changing landscape in higher education," said vice-chancellor of UTM, Prof Datuk Dr Wahid Omar.
"With this said, we are extremely excited to collaborate with McDonald's, which is the first QSR player we are partnering up with. This opens up the avenue for us to continue working closely together on various areas in the near future," added Prof Datuk Dr Wahid Omar.
The MBA programme will be offered under UTM Azman Hashim International Business School (AHIBS). The School has wide experience in business management programmes and has worked with various industries to assist them in addressing real world issues. Its flagship MBA programme comes in several concentrations that include general MBA, strategic management, healthcare management, strategic talent management, business analytics, digital innovation, and Islamic finance. UTM is ranked at #17 in the 'Top 50 Under 50' category under the QS World University Ranking.