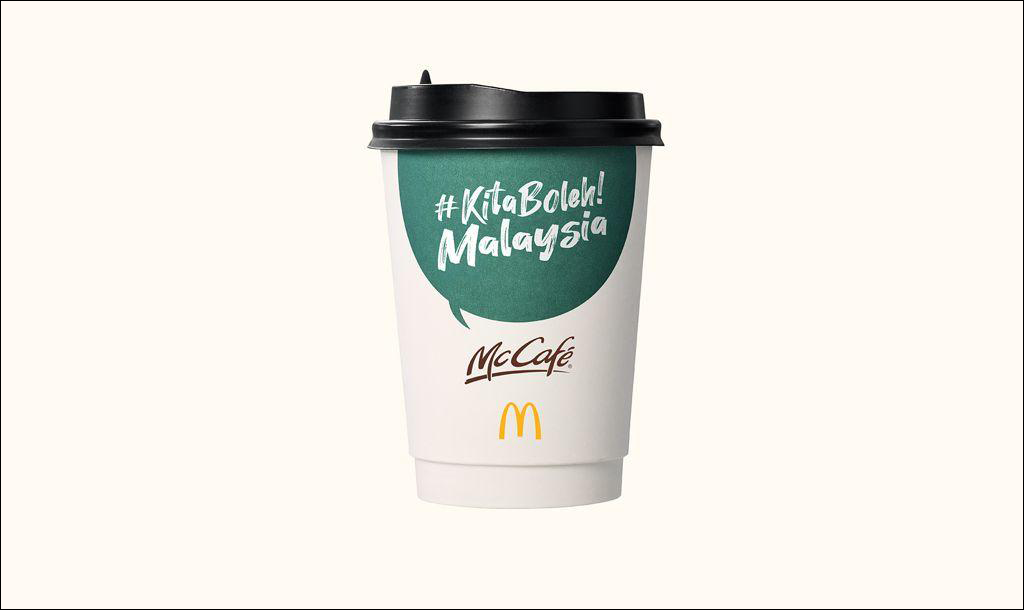 KUALA LUMPUR, 1 October 2021 – To spread hope and positivity in conjunction with International Coffee Month, McDonald's Malaysia is rewarding Malaysians a taste of its McCafé coffee by offering three million Americano coffees to those who receive their vaccination. To further ramp up the message of strength and resilience, the quick service restaurant is also introducing 3.5 million exclusive #KitaBoleh cups for McCafés throughout the country, cheering Malaysians on and reminding them to stand together, to keep going through thick and thin.
The vouchers for McCafé Americano are distributed to individuals who have received their vaccination at 75 selected vaccination centres nationwide, from mid-September 2021 onwards. The beverage is redeemable with any McDonald's purchase throughout the year until 31 December 2021. As a reminder for Malaysians to keep going and 'kopi on', McCafé cups with a motivating #KitaBoleh rally cry will also be made available in conjunction with International Coffee Month in October.
"Our company values the wellbeing of our fellow Malaysians and to keep their fighting spirit going, we are giving out the free McCafé Americano vouchers at selected vaccination centres throughout the country to thank Malaysians for doing their part and getting vaccinated. We are committed to support the community in any way we can and what better way to do it through a coffee drink that is a favourite amongst our customers," said Azmir Jaafar, Managing Director and Local Operating Partner of McDonald's Malaysia.
To continue to excite Malaysians with a great quality cup of coffee, customers will only need to pay RM1 to exchange to a great tasting Iced Latte with every McValue meal purchase.
"McCafé was introduced in 2012 to bring the espresso experience and high-quality premium coffee to all Malaysians, at great value that not many others can match. Any time is a good time to have a cup of quality coffee prepared by our professionally trained baristas. For this year's International Coffee Month, we are excited to roll out this special deal for all coffee lovers so that they can enjoy a cup of delicious McCafé Iced Latte with their McValue Meal," Azmir added.
On top of the voucher giveaway and the RM1 McCafé Iced Latte upgrade, McDonald's Malaysia will also offer additional McCafé promotions on the McDonald's app throughout October, which includes RM1.99 for medium Iced Latte, 50% off on selected McCafé drinks as well as special deals for selected McCafé cakes.
Made from 100% premium quality Arabica beans, medium-dark roasted and freshly ground, every cup of McCafé coffee is prepared upon customers' order to ensure freshness and to maintain its flavours – at great value, starting from RM3.99. All drinks and desserts from McCafé are prepared according to Halal and food safety standards and are certified by the Department of Islamic Development (JAKIM). Coffee beans used to make espresso-based beverages at McCafé are also sustainably sourced from Halal-certified suppliers.
For more information on McCafé's exciting deals throughout October, visit www.mcdonalds.com.my/promotion. Alternately, check out the McDonald's app which can be downloaded from Google Play or Apple Store.
-END-