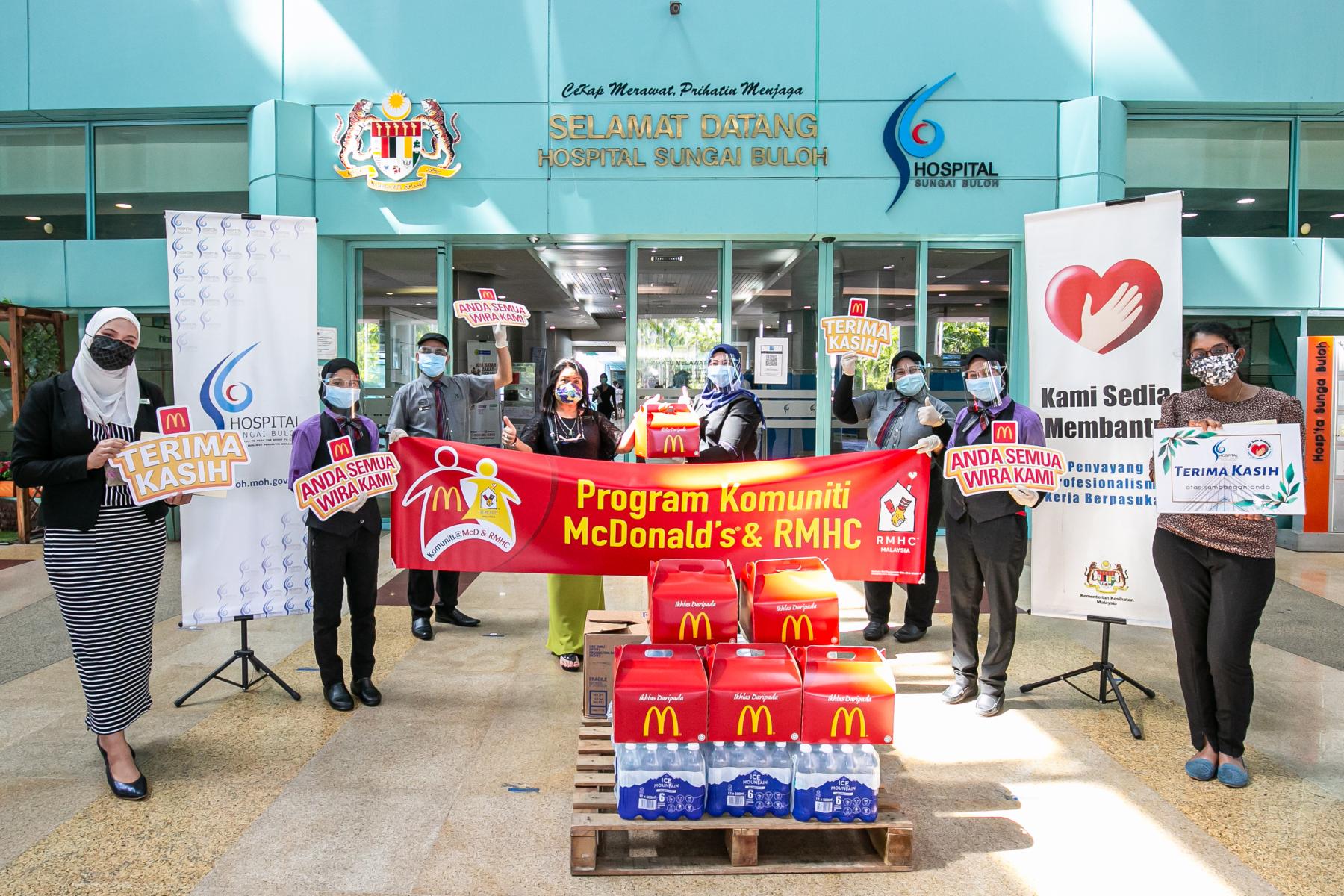 KUALA LUMPUR, 27 September 2021 – Since the onset of the pandemic in Malaysia last year, McDonald's Malaysia has introduced various ongoing initiatives to support the Ministry of Health in managing the COVID-19 pandemic, while driving the road to recovery for Malaysia. This is also part of the company's efforts to bring positivity and underlines McDonald's commitment to feed and foster communities as a responsible corporate citizen, aligned with its Komuniti @ McDonald's & RMHC programme mission.
Among the latest initiatives by the company include 10,000 free meals via voucher giveaway to frontliners at hospitals that treat COVID-19 patients in the Intensive Care Unit (ICU) and Critical Care Unit (CCU) since mid-September 2021. The vouchers would allow frontliners to "have a meal on McDonald's" in their leisure time and to thank them for their service in caring for patients through this difficult time.
"Being there for all Malaysians is a purpose that is close to our heart, and it is our commitment to show up for our communities when they need it most. We want to bring this message of strength and resilience to all, as we strive to return to normalcy and recover from the pandemic. Our meal sponsorships and vouchers giveaway help to bring cheer and convey McDonald's appreciation towards the important work by the Ministry of Health," said Azmir Jaafar, Managing Director and Local Operating Partner of McDonald's Malaysia.
The giveaway to frontliners entitles them a Nasi Lemak McD with 1 pc Ayam Goreng McD and Iced Lemon Tea as a token of appreciation and are eligible for redemption with any purchase until 31st December 2021.
To complement this effort, McDonald's Malaysia has also been offering three million Americano coffees to those who received their vaccinations. The vouchers are distributed to those who have received their vaccination at 75 selected vaccination centres nationwide since mid-September 2021 onward. The vouchers are redeemable with any purchase throughout the year until 31st December 2021.
This is in addition to McDonald's Malaysia's commitment since the onset of the pandemic in providing weekly meal sponsorships for hospitals and PPVs, offering more than one million meals to the various frontliners to date, as well as donating RM250,000 worth of Personal Protective Equipment (PPE) in 2020.
"We truly applaud and are proud of our medical frontliners who risk their lives every day, who care for patients and keep Malaysians safe. We want to show our gratitude and take care of them in return," he added.
McDonald's Malaysia will continue to support and assist the Ministry of Health through its various initiatives, as a part of its Komuniti @ McDonald's & RHMC programme goals. The wellbeing of the community is an important priority to the company and McDonald's will continue to do its part to ensure Malaysians and frontliners are looked after and cared for during this critical time.
-END-