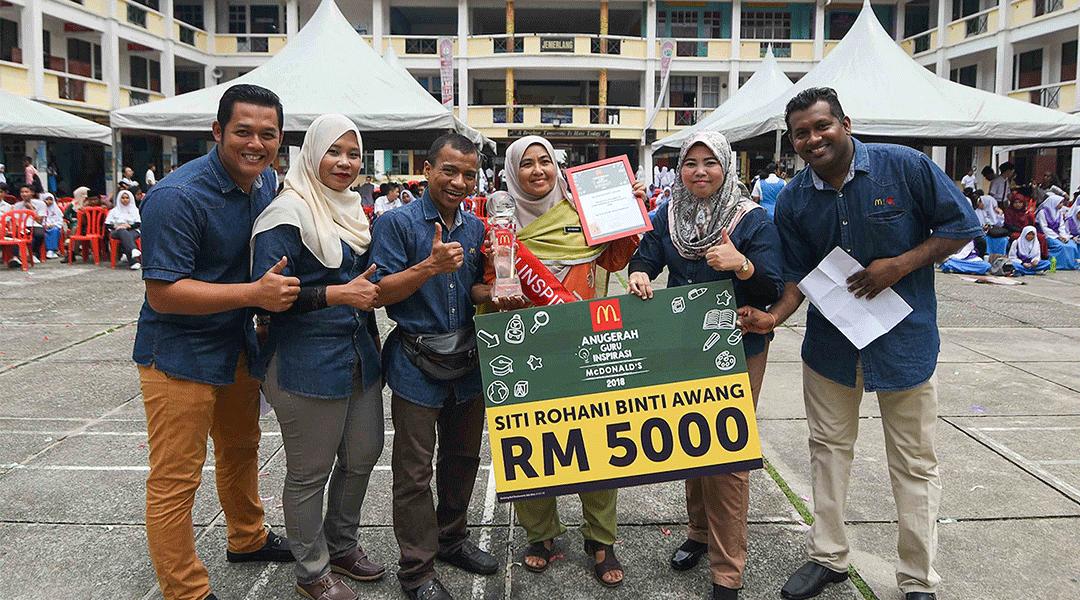 Madam Siti Rohani Binti Awang
From Sekolah Menengah Kebangsaan USJ 4, Subang Jaya, Selangor
Nominated by Sanjev A/L Manoharan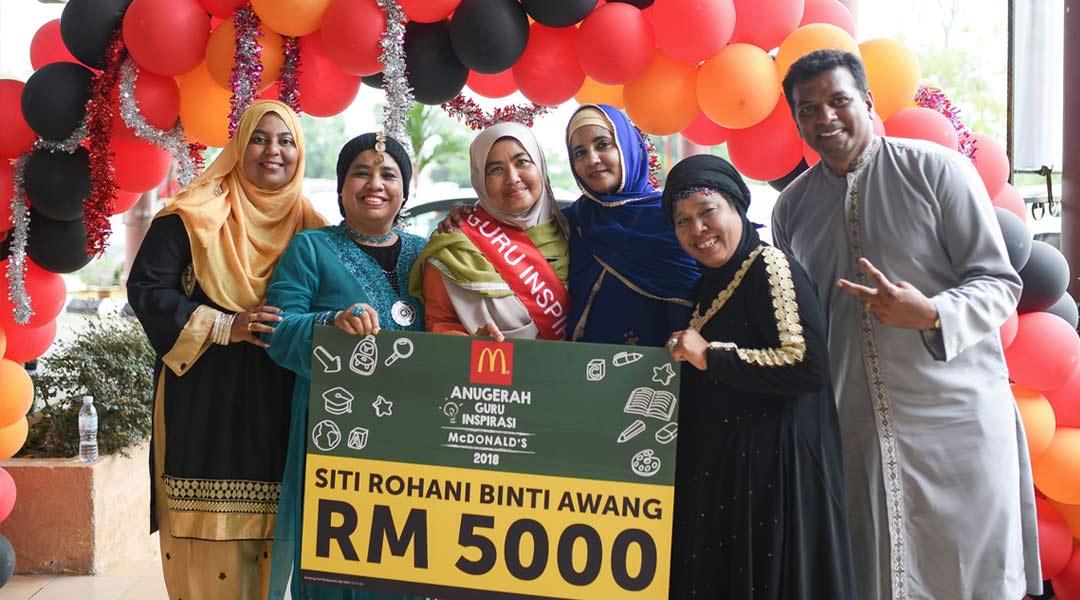 Sebelum bermula, terima kasih kepada McDonald's kerana telah mengadakan pertandingan ini. Pertandingan ini telah memberi peluang kepada saya untuk meluahkan perasaan saya terhadap guru kesayangan saya. Izinkan saya teruskan cerita saya dalam Bahasa Inggeris.
When the name Puan Siti Rohani is mentioned in school the whole schools knows the name and she is best described in two words, generous and kind but if you break any of the school rules you get to see her other side. But I only got to know her truly last year. Before I start on how I got to know her and why I look up to her. Let me introduce myself.
My name is Sanjev and I come from a middle class family. My mom is a teacher in a secondary school and my dad does not work due to a operation which took place last year. I have three other siblings and I am the third in my family. The earnings of my mom is the only financial support we have to support the whole family. To be honest my mom is a person who gives priority to education. She forces me to go for tuition as I am an an average student but I do not want to burden her as tuition fees nowdays really burn a hole in the pocket. At the end I had to go for tuition classes as I was struggling to cope up with my studies.
As predicted I knew my mom would have financial difficulties as she had to pay for many things. It was then I realised I had to study hard to bring my family out from these kind of situation. For a whole month I went to school without bringing any money, one day my english teacher Pn. Siti Rohani came and asked me why wasn't I eating and I told her that my family was having financial difficulties and I didn't have money to eat, as soon as heard that she took out some cash from her handbag and asked me to grab something to eat and also told me, if you need any money for education purpose please let me know.
She was the second pillar of strength for me and was the light to my darkness. On April 2017, my school had their camp which costed Rm150 per person. I wanted to go but knew I couldn't. She asked me if you wanted to go and I said yes and she paid the full amount for me. My teacher not only taught me English but also taught me life lessons such as how to be patient and to be thankful for anything that I have.
I used to be getting low marks for most of my subjects, my English teacher asked me what was the problem I was facing with the subjects. I told her that I could not understand what was my subject teacher teaching me in class. So she decided to teach me subjects that I was weak on daily after school for 4 months. After that my marks started improving and I began to become confident.
She was also the main source of motivation for me whenever I felt down and the person who listened to my problems. She wasn't only a teacher but was like a mother and a friend to me. These year I got the most heartbreaking news. My English teacher is being transferred to another school. She knew I was really sad and brought me out for lunch one day. She told me " Sanjev, why you do you look so down. I will help you financially and studies wise if you need any help. I am just a phone call away. If you have any problems please share them them with me." These cheered me up a little.
Last month, my mother passed me the tuition fees and asked me to pay the tuition teacher on the next class. I kept the money in my wallet and went to school the next day as I had my tuition right after school. I was terrified when I got to know my wallet went missing. I did not know what to do and was scared to tell my mom. I then message my old english teacher. She said do not worry and that she will pass me the money after my school. I was really thankful as she had drove from Subang to Puchong to pass to me money for my tuition fees.
I told her I would somehow return the money to her back as soon as possible. She told me "Sanjev that wouldn't be necessary just get good marks for your SPM and that itself would be enough for me." I promised to her I would study as hard as possible to get flying colours for my SPM.Not only that she became one of the main reason for me to study harder, in other words she became the fuel to a fire. She stills messages me to ask me on how am I coping with my studies. I am entering these competition without her knowledge, so I hope to win and give her a surprise.