Mr Mohamad Faiz Bin Mohamad Shakri
From Sekolah Kebangsaan Bukit Lalang, Semporna, Sabah
Nominated by Mohammad Irfan Bin Arahman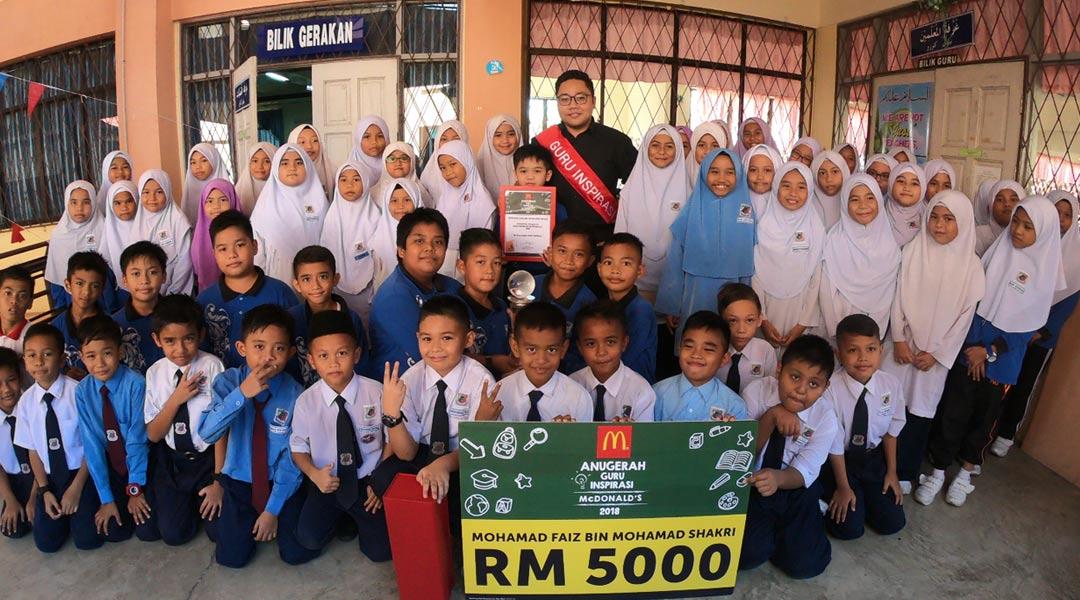 Not all superheroes wear capes to save the day. Some wear them to teach. There was one time when Mr. Faiz wore a red cape, put on a mask, and brought toy weapons when he taught us an English lesson about superheroes. This is a story about an extraordinary teacher who teaches us about being kind, brings out the best in us, and inspires greatness.
Mr. Faiz is our class teacher. He teaches us Science and English at Sekolah Kebangsaan Bukit Lalang, Semporna, Sabah. He comes from Kota Bharu, Kelantan and leaves his real family far behind to be with us. He says that it is the reason why he treats us like family because we are his family here and always reminds us to love each other.
Mr. Faiz is special and different from other teachers. He teaches us many new things and lets us do experiments, activities, and projects such as balloon rocket experiment, water bottle rocket experiment, making helicopter seed models, water balloon toss game, making egg sandwiches, and other hands-on activities. He also does a lot of demonstrations like fire hands experiment. It was really amazing. He carries a lot of bags into the classroom and looks exhausted after the activities. He always tells us that if he can put extra efforts in teaching, then we should do the same in learning.
Currently, he is working on a project in using technology in the classroom. He spent his own money to buy ten expensive computer tablets for my classmates and me. It cost him an arm and a leg. He told us that it is important to give and grow up to make an impact in the lives of others. Now, we can use the tablets in the classroom without going into the computer lab to find information on the Internet to present, watch videos, play Kahoot, do our email project, and so on.
Other than that, we are doing a project called Project Kindness for cancer patients. Mr. Faiz let us use the tablets to do Internet search on cancer and taught us how to write an informal letter. Then, we would use the tablets to make video letters and send them to Mrs. Ros Suzani. She is our former teacher who is suffering from breast cancer. Mr. Faiz said that we need to give her support and show her kindness. Our upcoming video letter project is about bullying.
Mr. Faiz is always busy with work but he never leaves us behind intentionally and skips his lessons. Occasionally, he gives talks at other schools and takes pupils to competitions. Whenever he has to leave the school for work, he would plan extra classes on Sundays to catch up with his lessons or switch the timetables with other teachers so that he would not miss his classes. When other teachers are not around, he would voluntarily step in to substitute their classes. He always says that he loves being with us even when we annoy him.
Mr. Faiz loves and cares for us. Last week, we planned a surprise birthday party for him. We brought him food and drinks. The next day, he brought us four boxes of pizza and doughnuts. Two months ago, when he taught us about superheroes, he bought superhero eye masks for each of us and use a song by Coldplay entitled Something Just Like Thisto teach us about nouns. He is a good cook and also brings us food. He makes us feel accepted and loved.
Everything he does in our classroom comes from his heart. Every lesson inspires us to be better. He is being the best version of himself so that we can be the best version of ourselves. We cannot even pay him for what he has done. That is the reason why I am representing the whole class to let people know that he is our superhero who sacrifices a lot and expects nothing in return and for that, he deserves the award.