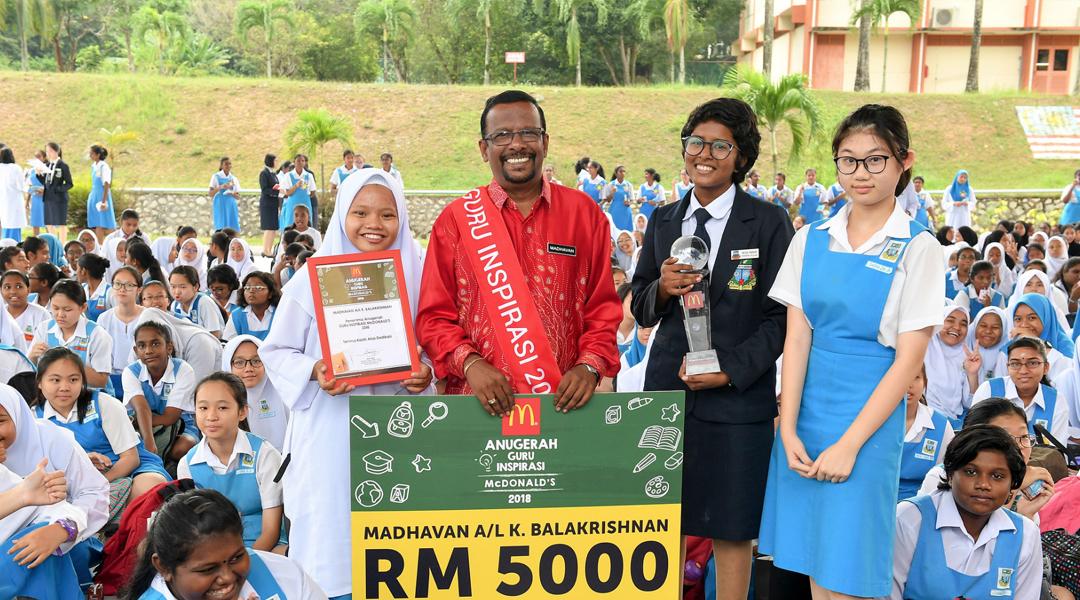 Mr Madhavan Balakrishnan
From Sekolah Menengah Kebangsaan Puteri, Seremban, Negeri Sembilan
Nominated by Aneesha Davarasan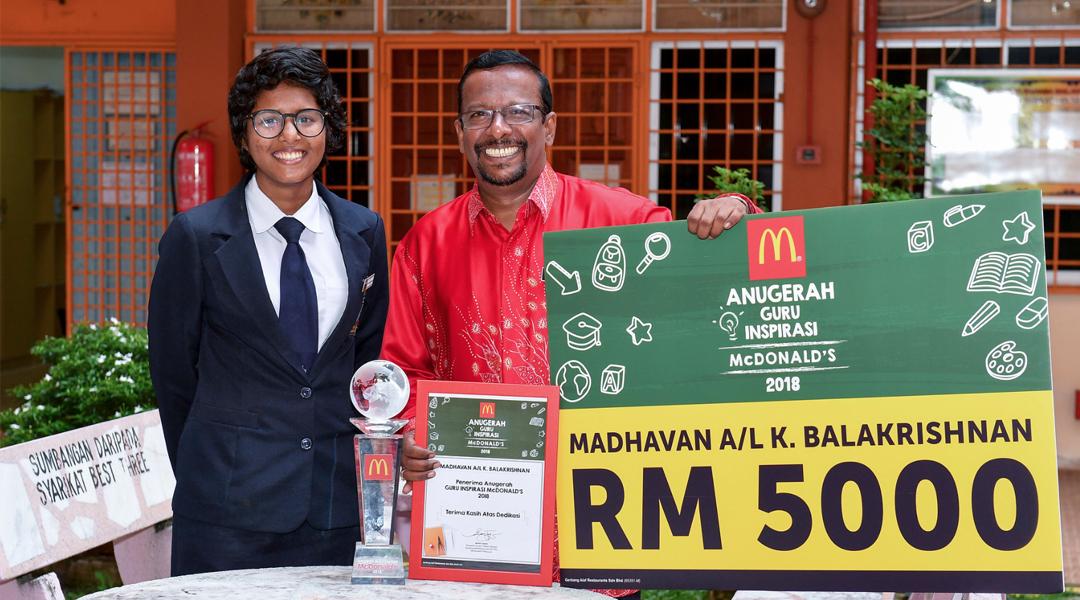 Blessed , loved and most of all inspired. Every girl has their best male teacher and I have one too, that's my Mathematics teacher , Mr Madhavan . Mr Madhavan is the best Mathematics teacher in my school. He is not only a teacher , he is a father too. Not just an ordinary teacher or father, he is an extraordinary father and teacher . This is a little flashback of mine when the first time I knew Mr Madhavan . Basically , he is a Mathematics teacher in my school. When i was in Form 1, on one particular day , my classmates were standing in the corridor of the top floor of the block and making noise.Since Mr Madhavan 's class was in the opposite block in 2nd floor , he heard our noise because we were too loud until it disturbs his class.
He just came out of the class and waved at me and told me to tell the girls to keep quiet but my classmates failed to keep quiet and he got pissed. I turned back to my friend and started to giggling . He got even pissed . He called me to come to the opposite block to meet him immediately . I was too scared and I started to shiver because I've heard about him where he is a hot tempered person . When i met him , he scolded me initially.Out of the blue ,he said that I should join the debate , public speaking and choral speaking team . I was like "what". I was stunned and shocked for a moment . He said that i am very talented and projection of my voice is very good. It was really unbelievable . This was an incident that really changed my life . He boost up my level confidence in myself. That was the day I know my own ability and talent.
When I was in Form 3, he became my Mathematics teacher. I hated Mathematics because I felt it was too hard . But there's a twist , since he started teaching my class Mathematics . I found that Mathematics is actually fun and challenging .He did not only changed my mindset of locking Maths but he changed most of the students who had the same mindset like me . Mathematics became my favourite subject . He always say that PRACTICE MAKES PERFECT. It's actually true . When I started practising doing Mathematics exercise frequently , I felt that Mathematics is not hard actually . He made me realise that Mathematics is an important subject . Without Mathematics , I am just a ZERO. Mathematics is actually like our life . In Mathematics we will meet questions and there's a solution for it .That's how life is where we will go through circumstances but there's always solutions for the circumstances . We can easily relate our life with Mathematics .
The reason I call him an EXTRAORDINARY father because see his students as his own daughters . He is very concerned about his daughters's studies and life . Whenever he sees a girl's facial expression , he can accurately tell the girl's mood . He is concerned about his daughters's feelings and mood too. He is a very friendly person too. i always see him my best friend too. He always love to make fun of his daughters . he always want his daughters to be happy and laugh.
Laughter is the best medicine . He always want his daughters to share their sorrows and problems to him so that we can be relieved. He always says that we should respect our parents to get their blessings . He always motivate his daughters by saying inspirational and motivational lines . He always showers love and blessings on his daughters . He guides his daughters to go the right path of life . He always make sure that his daughters dose not take any stupid decisions due to failures. He always say that failures make us to be more focused and careful . So that we won't fail again . He always want his daughters to be a successful person in life .
Last but not least , I should thank the Lord for creating such a wonderful and amazing soul. I am really blessed to have such a teacher and father in my life .i am so proud of you sir . I am literally out of words to express my feelings .