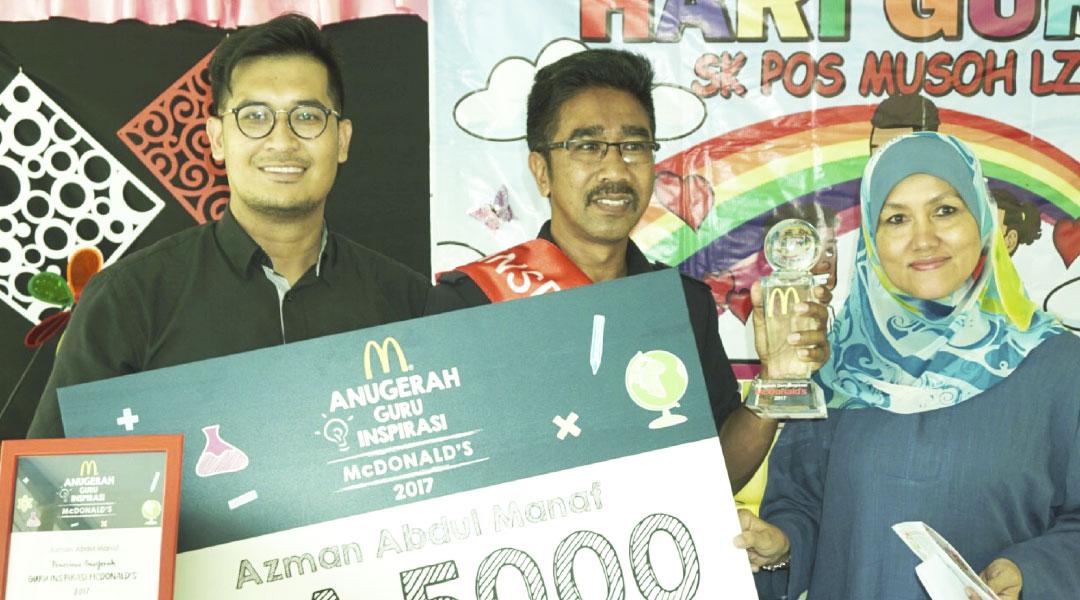 Mr AZMAN ABDUL MANAF
From SEKOLAH KEBANGSAAN POS MUSOH LZ
Nominated by THAM YIN YEE
Cikgu Azman is a Guru Besar in an Orang Asli School in interior Perak.
Orang Asli schools typically have low student attendance rate. In a typical school, teachers could have sat back and wait, then mark a big fat "O" on the attendance registry and proceed to teach a half-filled classroom.
Cikgu Azman understand the importance of attendance for any learning to take place at all. He went over and above his job description. He identified an exhaustive list of over 50 factors of truancy and go about solving them one by one.
In the mornings, he went rounds in the villages to pick students up. He knows the children comes to school hungry. He controlled food supply and provides 3 free meals a day for all students.
He realised students love eating eggs and incorporated eggs in the menu everyday. He used iced Sunquick as classroom reward strategy. How many of your teachers know your liking?
Cikgu Azman develops close relationship with the community. He sits alongside the villagers. "You cannot build relationship by standing outside of their house peering in". Being a muslim does not deter Cikgu Azman to sit with the locals in the Orang Asli houses that are right next to pig pens.
Cikgu Azman brought the children on road trips as rewards for consistent attendance. He brought the parents along as well to increase awareness and exposure, and encourage parental involvement. During a road trip to Malacca, the parents were astounded that unlike river water, seawater is salty.
Cikgu Azman have also learnt to speak Semai, an indigenous language.
Not many would be willing to be separated from their loved ones and teach in a remote school. Cikgu Azman's dedication to serve is an example to all members of community to do our parts and help out.