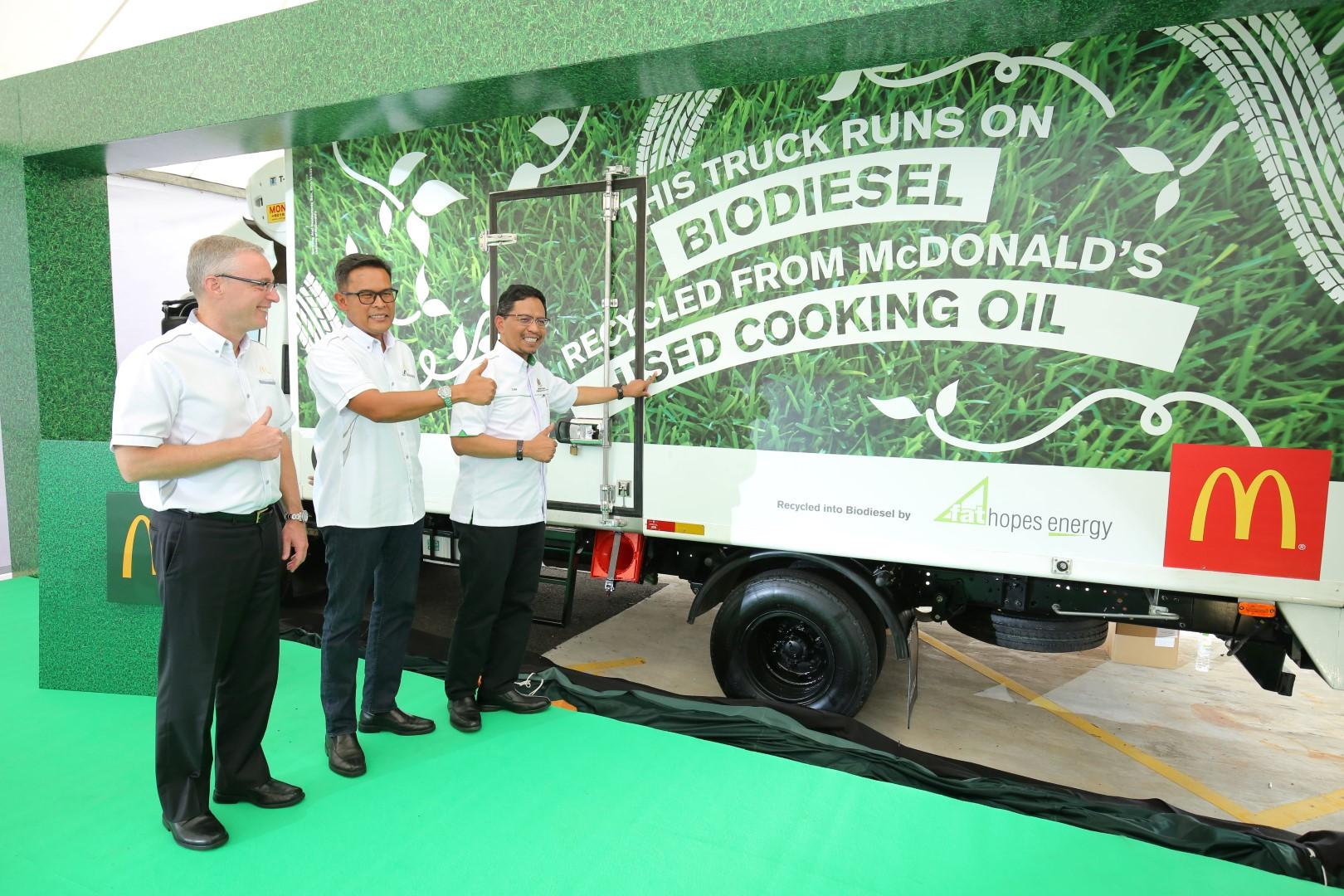 Shah Alam, Selangor, 20 March 2018 – McDonald's Malaysia today underscored its commitment to long term sustainability efforts with the unveiling of several initiatives to reduce carbon footprint, as part of the company's global Scale for Good strategy.
In Malaysia, up to 124 McDonald's restaurants have already implemented at least one of the green initiatives that the company has committed to, bringing it well on the way to helping the nation meet the commitment to reduce the country's greenhouse gas (GHG) emissions. Under Malaysia's Green Technology Master Plan for 2017-2030, the government's commitment to the Paris Agreement 2015 was to achieve up to 45 per cent reduction in GHG emission intensity of GDP by 2030 relative to 2005 levels.
McDonald's Malaysia Managing Director and Operating Partner, Azmir Jaafar, said: "As a company and brand with an extensive global footprint, we have a responsibility to improve people's lives and the environment. We want to use our Scale for Good strategy to achieve this objective and we will keep raising the bar on what it means to be a responsible company committed to people and the planet."
"As a testament of our commitment, I'm pleased to note that the McDonald's Setia Alam drive-thru restaurant has thus far successfully reduced overall power consumption by 25 per cent which is equivalent to a reduction of 12,699 kg CO2 emission per month," added Azmir at the grand opening of the Setia Alam restaurant in Shah Alam.
Yang Berbahagia Dato' Seri Ir. Dr. Zaini bin Ujang, Secretary General to the Ministry of Energy, Green Technology & Water, who graced the event on behalf of the Minister, acknowledged McDonald's commitment to environmental sustainability and the various initiatives that are undertaken.
"McDonald's Malaysia's commitment to environmental sustainability should be applauded. While this is a global initiative, I'm pleased to see that McDonald's Malaysia has taken a proactive stance by investing in green technology solutions and embracing innovative ideas that not only helps minimise the restaurant's carbon footprint in the country but also contribute towards a more efficiently operated business that others should emulate," said Dato' Seri Zaini.
The Setia Alam restaurant is one of McDonald's latest restaurants that is fitted with green technology solutions such as solar photovoltaic roofing, indoor LED lights, thermal solar water heater, rain water harvesting system, smart thermostat and hybrid air-conditioning system.
McDonald's Malaysia has also taken a major step forward in fuel consumption with the use of biodiesel as an alternative fuel in the fleet of dispatch trucks operated by its appointed logistics services provider, Martin Brower. For this, Smart Tanks have been installed at its restaurants for collection of used cooking oil which will be processed into biodiesel by FatHopes Energy.
McDonald's Malaysia is also committed to other sustainability efforts as part of the company's global Scale for Good strategy. This includes waste management, water supplies and consumption management, packaging and recycling initiatives, as well as responsible sourcing.
For instance, under packaging and recycling initiatives, McDonald's Malaysia has successfully eliminated the use of foam packaging in all restaurants three years ago. All restaurants have also significantly reduced usage of plastics bags and plastic lids by approximately 43 million pieces per annum, which translates to about 50,000 kg of plastic material. Furthermore, all current customer paper packaging used in McDonald's restaurants are made with 100 per cent recyclable fibre material.
In the area of responsible sourcing, McDonald's Malaysia is committed to use only RSPO-certified palm oil. Other food supplies such as coffee beans are also sourced responsibly following strict guidelines and principles that are similar to the RSPO criteria. Additionally, the fish that are used in McDonald's Filet-o-Fish burgers come from a source that is certified by the Marine Stewardship Council.
Azmir said all the ongoing initiatives in Malaysia are in line with McDonald's global vision of creating a positive impact on the communities, societies and the planet by using the Scale for Good strategy, which is McDonald's global approach to sustainability.
"Globally, McDonald's is pushing the use of Scale for Good in a big way, leveraging on the scale and size of McDonald's business around the world, and collaborating with millions of customers, employees, franchisees, suppliers and other partners for impact. In this way, we believe we can drive change, so they become tomorrow's standard," he added.